A stress free holiday is a big dream that rarely comes true in today's society . There is only one month left until Christmas. Are you ready for it?
Have a look at our December promotions, you may even want to treat yourself:
Book one Reflexology session at a regular price and receive a complimentary 30 min Swedish Back Massage
 30 min Express facial treatment AND 30 min Reflexology or Swedish Back Massage for only $90
Purchase any Skindulgence Clinical Facial or Colon Hydrotherapy session and receive 30 min Reflexology session with Doriana Holistics for a special price of  only $19.95
60 min Deep heat Massage and Acupuncture for $32 (first session)
 Receive 1 box of Detox Foot Pads  free with Colon- Hydrotherapy Premium Cleansing Package (3 sessions)
Here are a few tips we can share with you to make your gift giving experience less stressful and more enjoyable.
If you think about it, why should we buy things that we (and most other people) don't need, with money we don't have,  to impress the people we don't even like?
– Shop locally. It will save you time, gas, and money, as well as support local businesses and benefit your local community.
– When buying presents, think of what is really important for that person. Is it the amount of money you spend that shows how much you care? Or is it the intention behind the gift? An experience? A memory?
– According to new research  "experience" gifts are mutually beneficial for both giver and recipient, not only bringing people closer, but creating memories and conversation topics for years to come.
Here at Arnica Clinic we offer the best kind of "experience" gift – the Gift of Health.
What better way to show your loved ones that you care than a Hot Stone Massage or Reflexology session, we have a great variety of treatments that can help you to relax and recharge. And don't forget yourself! You too deserve time to unwind.
We also have some tangible items that can make wonderful gifts and help you get healthier in the New Year:
Detox Foot Pads – an easy to use and inexpensive tool to increase circulation and remove toxins from your body night
after night.
Firma Energy Wear: circulation socks, compression leggings and so much more…
Clothing made from fabric that contains active biocrystals at the core of every thread, which provide benefits that 'normal' fabrics do not. These benefits include increased micro-circulation, better thermoregulation, and healthier looking skin!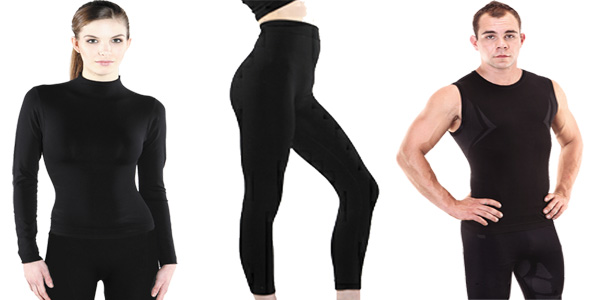 Buy Gift Certificates or products before December 25 and receive 10% of the amount in free Gift Certificates toward services!