Infared Sauna
Do you want to detoxify your body of harmful toxins and heavy metals, relieve chronic fatigue and pain from arthritis, fibromyalgia or past injuries?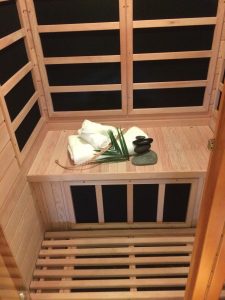 Thinking about burning some extra calories?
Is 600 in 30 minutes good enough ?
Radiant, firm and healthy glowing skin sounds attractive. Wouldn't you agree?
Just sit, relax and sweat your worries away in our

Carbon Infrared Dynamic Sauna with Colour Therapy!
Far Infrared Rays (FIR) are the same energy human bodies naturally radiate.
FIR penetrates all layers of the body and warms up your body directly and NOT the AIR around.
This unique feature allows you to sweat and detoxify more, at much lower temperatures than regular saunas.
Watch and listen to what doctors say about the health benefits of infrared sauna:
Ready? Book. Go!
Cost:
30 min…….$20
You can also get one free infrared sauna session with every Colon Hydrotherapy package
Packages
6 Sessions(30 min)……………….$99
10 Sessions(30 min)…………….$149
Towels and hot teas are included!