Do you have heavy legs in the evening?
Do your ankles swell?
Do you have spider veins and varicose veins?
Do you have cold feeling in your legs?
Arnica has the solution for these uncomfortable leg problems. Talk to us about compression socks or stockings which are vital for the prevention and treatment of varicose veins and other circulatory problems. Compression stockings and socks can help reduce everyday strain on your busy legs. Graduated compression helps to pump blood back up to your heart – improving circulation!
We carry a complete selection of graduated support hose that may help. Our certified fitter will help you choose the best product to improve the health of your legs.
Arnica carries Sigvaris, Mediven ( made in Germany) brands compression stockings.
How do Compression Stockings Work?
Compression stockings or socks are "graduated compression" which means they are tightest at the ankle and gradually give less compression up the leg to aid in venous return, helping blood flow to the heart. There are a wide variety of styles to choose from: socks, thigh high and pantyhose. Men's and maternity styles are also available. The amount of compression needed can be discussed your doctor.
To be most effective, the socks or stockings should be put on at the start of your day and removed before you go to bed. Some people have an inherited weakness of the vein walls or valves which creates additional challenges to venous return. Wearing graduated compression socks or stockings is vital forthe prevention and treatment of varicose veins and other circulatory problems
Compression stockings are covered by most extended medical plans with a prescription.
How to put on knee-high compression stockings
Mediven Below Knee Leg Chart
It is very important to do proper measurement and fitting, to get full benefits from your compression stockings
Measuring instructions
Measurements should always be taken as soon as possible after waking when swelling is at its lowest.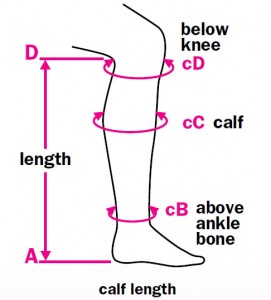 Limbs should be measured next to bare skin .
The measuring system is based on the angle between the sole of the foot and leg or arm being at 90 degrees, for best results.
Measurements must be taken by pulling the tape snugly around the leg but without constriction.
Measurements should be taken from the ground up.
FAQ
How do I take care of my compression garments?
Prolong the life of your stocking by daily hand washing or machine washing on a delicate wash cycle (please note the care instructions on the label of your stocking) after each wear.
The product can be machine dried provided a delicate cycle is choses (refer to the information on the label of the stocking). However, direct heat should be avoided (radiators and sunshine). When hand washing the stockings, we recommend drying them between two towels (DO NOT WRING).
Only use mild washing powder/liquid and avoid the use of washing additives like fabric softener, optical brighteners or stain removers. We strong recommend a washing solution that is meant for elastic garments.
Please wipe the inside of the silicone top band with a damp cloth regularly