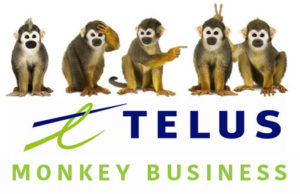 Dear Arnica friends:
Please accept our belated apology to those of you who tried to call us between October 19 and October 23 and heard "this number is not in service". Here is what happened. Unfotunatley, this situation is not so unique. I'm sure many of you, especially small business owners can relate:
It started when Telus came to my clinic to offer a deal on Fibre Internet 250 and a business phone bundle. I was promised that I could keep my existing number and make a smooth transition from my current provider to a friendly fibre optic future with Telus.
 I signed the agreement.
On Monday October 23rd, we noticed that the office phone wasn't working and that it says: "Number is not in service" Since I didn't hear ANYTHING from Telus AT ALL, I called Shaw to find out what was happening with my phone, and to my absolute astonishment, I was told that my number was switched on Thursday October 19!  That meant that everyone who called Arnica Clinic for at least 4 days, had heard "This number is not in service" 
So, that's why nobody had shown up to our Health Education Talk on Monday Oct. 23 that we had been planning for a month! Arnica Clinic is a team of eight independent businesses under one roof, that means all of them were badly affected by this interruption!
My fellow small business owners, how would it have affected your buisness if your number was not in service for 4 straight days and you were not aware of it?
If a company offers you a deal on the service it should at least be able to provide it. I assumed that the phone line would be installed before the existing number was switched.
If your manipulating my business phone line during business hours, do I not have a right to know about it? 
If you've created chaos in your new customer's business and caused it significant loss of revenue, shoudln't it be a simple courtesy to call and apologize?
Even now, 3 weeks later my business is still experiencing interruptions: The phone lacks some basic features, I have internet 15 instead of 250, I do not have an IP address, not even dynamic and I cannot access my database from outside the clinic.  
Again no communication from Telus, I still don't even have an account with them!
Not even a curtesy phone call with an apology for all the hell I've been through because of them.  Are they even Canadian?
Now, my fellow business owners, tell me, how long would you stay in business if you were treating your new customers the same way? Why is Telus still in business? Well there is only one alternative – another monster. As the old Russian saying goes: 'horse radish isn't sweeter than garlic."
Why are we always have to choose the lesser evil and not the best man for the job?